What Runners Can Learn From a Boxing Legend
Submitted by

michael

on Fri, 05/23/2014 - 16:20
I was just watching the movie Cinderella Man about the unexpected come back of James Braddock for the heavyweight title of the world in 1935. In 1934, completely untrained and having lost his license to fight after a series of terrible bouts, he was brought back out of retirement to fight the #2 contender in the world, since no one else could fight on no notice. And guess what, he WON.
Why? And how in the world does boxing relate to running. Well, simple. James Braddock was an amazing fighter until he got injured, and then he fought injured, after injured after injured, and just kept losing. Why? Well, it was the Great Depression and fighting was his only chance to put food on the table for his family (wife and 3 kids). That's not a bad reason to keep on fighting. It was only after he lost his boxing sanction and had to take time off and work on the docks that he began to heal and grow strong again. In fact, working on the docks he had to work his weak left hand (he always had a weak left hook) and it grew equal in strength to his other side.
So when he was brought out of retirement as a no-hoper, with no training, but NO injuries, and better body balance he no longer had to fight with one hand behind his back, so-to-speak, and he won perhaps one of the most miraculous comebacks in sporting history!
So what does this have to do with us?
Chances are, if you're like me, you've run with nagging aches and pains, or weakness or imbalances, or constantly sore or tired. You just didn't want to quit, or take time off, or get out of shape, or a bit of a belly...I get it, I understand the reasons.
But STOP. Just STOP.
If you're sore or on the verge of injury, you need the chance to recover. So many athletes that I've trained who were working toward big events, did remarkably well BECAUSE they had to take time off they didn't want to, rather than because they didn't time off.
(And how many of us, push to get that one last fast or long run in, only to get hurt before the big event)
No one wins when we're over-trained and broken.
And yet, we all feel guilty taking time off, veering from our training plans, or heaven-forbid, spending several weeks on the couch.
But as James Braddock found out, time off from your normal training routine could be the best thing in the world.
I used to work with a lot of Japanese runners. They learned a lot from me, and I from them. One thing they taught me is that down time is anything but rest time. When you're not running, that's when you get your foundation in order. It means looking for muscle imbalances, tight muscles and immobile joints. It means growing the core strong. Working on cross-training and muscle groups you wouldn't normally work on, and generally speaking, growing strong from the ground up.
Taking time off is your greatest chance to rebuild your foundation and grow stronger than ever.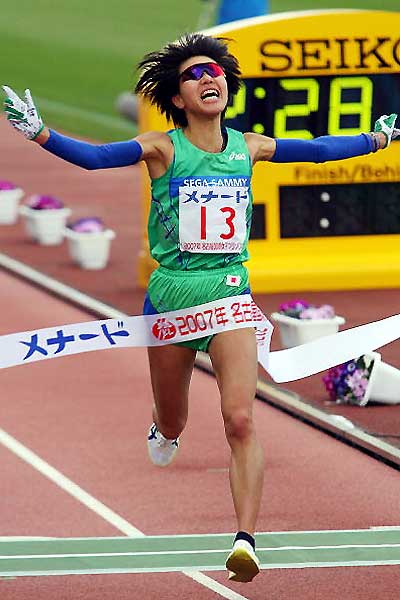 I remember one of my good friends, Yasuko Hashimoto, went from a severe knee injury and forced time off, to walking obscene distances (up to 8 hours a day) before running again on an underwater treadmill and then only two months later WINNING the big marathon and qualifying and going to the World Championships. It was unbelievable, until you looked at what she did. She rested, recovered, and worked on every other aspect of her body. I know because I trained with her.
And that's what I want to make sure you do to.
The year is long, heck, the summer is long, and whether   you're training for fun, or for a big event this fall, you've got time. You owe it to yourself to get some rest, and get recovered.
In future posts we'll be looking at some key things you can do to get strong, and get limber while you're resting. And remember, you're not down, and you're not out, but you're growing the body of a champion.
You'd never drive a car with a flat tire? So why do we keep running or lie to ourselves?
Instead listen to your body, and don't be afraid to take the time off you need.
It's a HUGE investment in your future, AND your long-term happiness. For we're never quite happy and at peace when we're injured.
Yasuko did it, James Braddock did it, and so many of the others you see on the world stage or on top of their games did it too.
So take the time you need. Stretch, strengthen, recover. Then fly!